How to cook up civic-driven food system governance?  A step-by-step guide for practitioners 
15 November 2022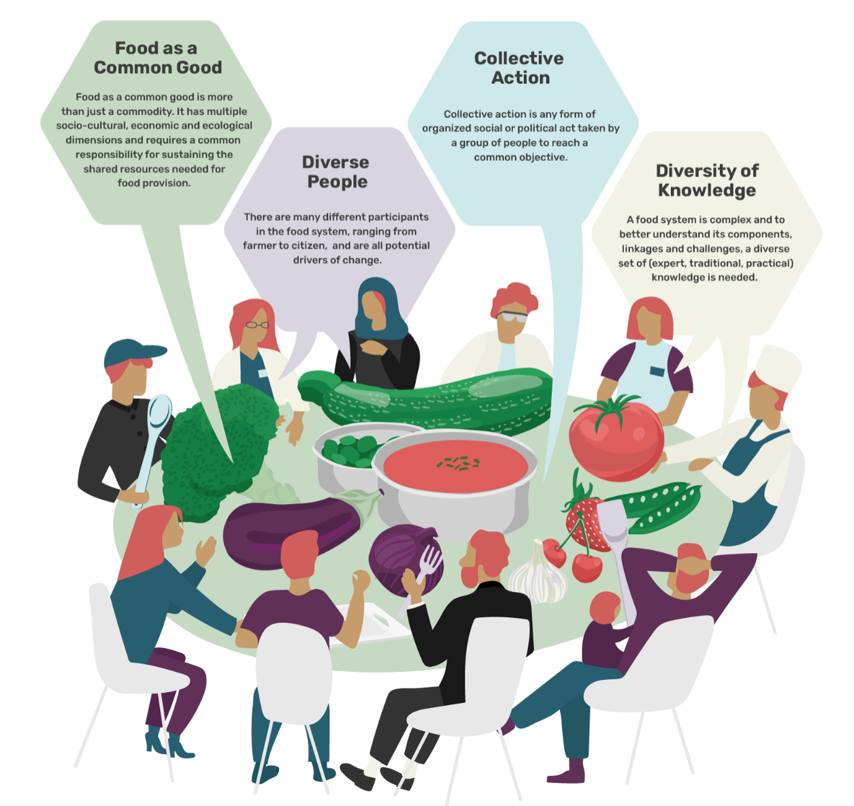 How to cook up civic-driven food system governance? 
A step-by-step guide for practitioners 
Key words: food system governance, food strategy, guide, methods and tools 
👉  Read and download the complete guide in the resources section: "Infopackage on good practices and evaluation criteria for citizen-driven food system governance".
Many city-regions across Europe are asking themselves how to improve their local food policy, how to engage stakeholder and how to develop and implement actions for a food system transformation.  
To address these questions, FoodSHIFT has created a step-by-step guide for practitioners to create their own recipes for civic-driven food governance. The guide presents the governance approach towards food system transformation taken by FoodSHIFT and helps the reader to become more familiar with key concepts and processes of developing a food strategy.  
The reader is guided through each step for developing a food strategy (i. Initiation, ii. Assessment, iii. Stakeholder Engagement, iv. Vision Building and Action Planning, v. Evaluation), which come with templates, exercises and additional material to support a participatory and deliberative process. However, the process, steps and methods presented in this guide are not limited to building a food strategy, but can be useful for many different food system initiatives.  
Initiation – The Power of Storytelling 
At the beginning of the process comes often the question "Why?" Why to develop a food strategy? Why now? Why at city level, which has nothing to do with agriculture?  
To communicate the relevance of a local food strategy (or other food topics), storytelling can be a powerful tool. It is through stories that we simplify and make sense of complex topics or motivate others to act. Stories help us to identify problems and solutions and to understand why something is happening. Stories covey assumptions and believes, which influence the rules that define our economies, policies and societies. However, stories not only help us to increase our awareness and make sense of something, but also help to rewrite "realities"; they generate new visions and ideas, stories engage the listener and motivate people to act. The guide provides resources for creating and telling food stories. 
Assessing – What's on the radar?
In order to know what needs to change, it is important to understand the current situation. Without a baseline increases the risk of spending a lot of time and resources into ineffective actions and policies. So, instead of jumping straight to actions, it is recommended to step back and take a look at the local food system to see what is happening, where are the gaps, what is working well and what not so well. While assessments can be resource heavy, in the long run they are extremely beneficial (both in terms of appropriate policies and actions). The guide presents a list of tools with different levels of complexity and required expert knowledge and/or resources. 
Engaging Others – Who is on board? 
To support the food strategy development and implementation, it is important to engage a series of stakeholders across sectors. Common arrangements for driving food systems work are food policy councils, steering committees or food partnerships. In such arrangements one will typically involve stakeholders from across the food system, representing different perspectives, areas of expertise and interests. It can be challenging to keep everyone on board but can be mitigated with good food governance principles in place. The guide presents some tips and principles to ensure ongoing stakeholder engagement. 
Vision Building and Action Planning – Let's do it! 
Before spelling out your strategy with concrete goals and actions, it is important to formulate a vision. A good vision describes what your city wants to achieve in the future and can motivate and support others to get and stay engaged.  To work towards the vision, the guide recommends to find fitting pathways by selecting and planning strategic goals, operational goals and actions. Besides other resources, the guide provides a template to develop a desired and logical trajectory for moving from strategic goals towards a vision. 
Evaluating – Are we heading in the right direction?  
Since this process is new to many city-regions, it is recommended to evaluate the taken decisions and actions and to see whether the efforts contribute to the desired outcome. Evaluative questions include "Are we heading in the right direction and spending our resources efficiently? Are the stakeholder engagement and participatory process inclusive enough? Or do we need to adjust and customize our journey? The guide holds a template to reflect on the progress, to boost the confidence or highlight needed changes.  
Cook your own food governance meal 
Becoming familiar with the process, exercise templates and further material is only the first step. With the help of the guide, practitioners can roll up their sleeves and cook up their own food governance meal. 
You want to share your recipes or learn more about other city region's recipes? Then sign up up by emailing FoodSHIFT+-[email protected] or check out other contributions to the FoodSHIFT knowledge hub.