Strategic Collaboration: collectively shaping the food system transformation
05 May 2022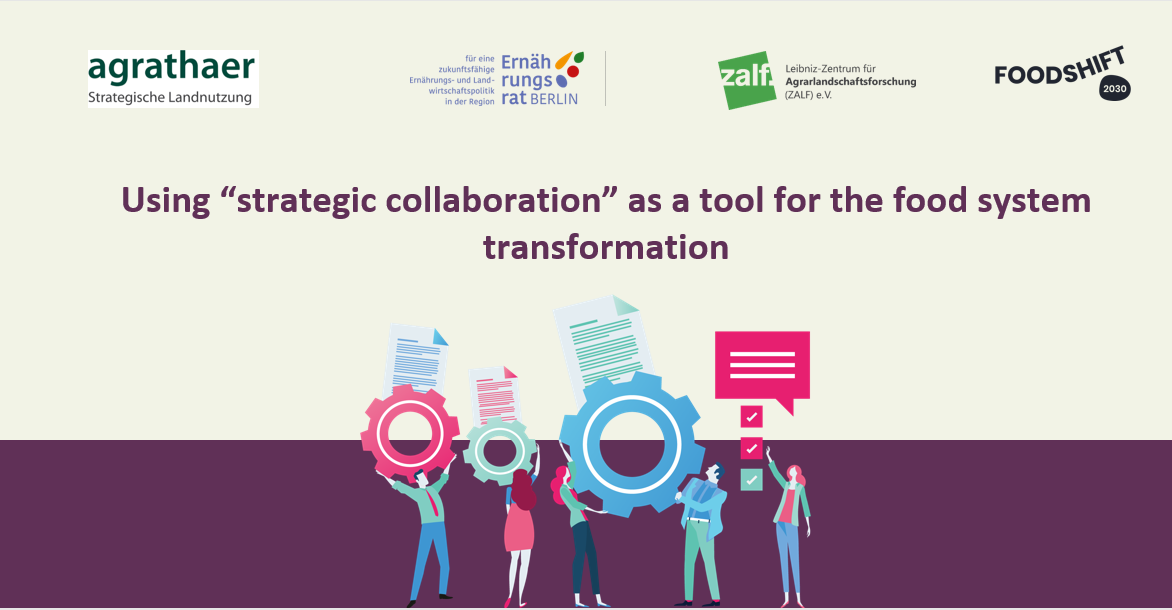 Second workshop of the Berlin FAL in the three-part FoodSHIFT2030 workshop series "Promoting institutional learning"
The Berlin Lab with its partners Berlin Food Policy Council, agrathaer, ZALF and Baumhaus wants to support institutional learning within administration by promoting new ideas and approaches. To this end, the second workshop in the three-part workshop series took place on Friday, 25th of February 2022 with the target group of administration and civil society organisations from the Berlin-Brandenburg region. 
Complex challenges such as the food transformation can only be addressed with integrated approaches. System thinking is one of these approaches. Complex issues are interconnected. There are several actors in the system and their actions have a direct and/or indirect impact on each other. Systems thinking means to:
Express a strategy and act on it.

Engage and align different actors.

Integrate health, environmental and equity concerns with economic success. 
"System thinking" was the focus of the first workshop with administrative representatives as a target group "administration".
Strategic collaboration is a possible tool to translate systems thinking into effective cooperation and action. This is suitable for the food transformation and was therefore the focus of the 2nd workshop. We understand strategic collaboration as a deliberate, collective approach to tackling public problems or issues by building shared knowledge, developing innovative solutions and bringing about impactful change (Norris-Tirrell and Clay 2010: 5). The opposite of strategic collaboration can be described as 'siloed' activities. 
As an input, Beatrice Walthall (ZALF) shared practical advice for successful implementation of strategic collaboration that builds on Norris-Tirell and Clay's years of experience. 
Prerequisites and principles of strategic collaboration
Strategic collaboration does not make sense in every case. The following preconditions for strategic collaboration should be in place:
legitimate and urgent need for collaboration,

sufficient actors with different perspectives on problem solving are involved,

competent and committed leadership,

competence for collaboration,

likelihood of fundamental change.
According to Norris-Tirell and Clay, for successful strategic cooperation, the following principles should be considered during implementation:
Principle 1: Choose strategic cooperation wisely.

Principle 2: Understanding the life cycle of strategic cooperation

Principle 3: Strengthen leadership

Principle 4: Weighing risk and reward transparently

Principle 5: Emphasise results and impact
Inspiring examples from Lejre and Oostende
To inspire the participants, Berlin FAL invited Tina Unger (Municipality of Lejre) and Kathy Belpaeme (Ostend), who have already gained a lot of experience with cross-sectoral cooperation.
Tina Unger confirmed in her presentation that many aspects, such as food production, business development, rural development, health and environment are interlinked. In Lejre, the aim was to support smaller farmers and businesses. The result was, for example, their own regional "Lejre" milk (Arla) and a small new scale business network. In addition, there are now more jobs, more entrepreneurs and more liveable villages in Lejre. People are proud to live there and they have developed a sense of belonging to where they live. A collaboration between the municipality, Organic Denmark, local farmers and restaurateurs resulted in better national food legislation for small scale farmers. 
How was this achieved? Essentially, cross-sectoral cooperation was significant, as was building trust between stakeholders. Communication and building trust is a big time investment, but it pays off for further goals and projects. The cooperation was "top-down" as well as "bottom-up" and complemented each other well. The vision came from the municipality, but the citizens, farmers and local entrepreneurs supported the measures, developed new projects, and organised themselves. The main task for the public authority was communication, network building and 'kicking stones off the way' eg. within legislation. 
Kathy Belpaeme from the City of Ostend gave the example of the strategic cooperation between the city with the tourism and business association and illustrated how local food culture can be linked to sustainability. For example, she suggested that the annual fish festivals for locals and tourists should also focus on local fish. The tourism association took up these impulses and set the criterion that at least one local product should be offered at each stand. In addition, a shrimp festival is now organised, because shrimp croquettes are a local certified food. A Belgian celebrity chef additionally acts as an ambassador for local fish and sustainable food, addressing restaurant chefs. Another example is the "Veggie Challenge" for restaurants. The goal is to offer a diverse selection of healthy and sustainable meals to guests. An annual campaign has been set up to benefit restaurants that offer vegetarian menus. The restaurants are reported on the social media channel of the tourism association and fancy pictures of vegetarian menus are sent.
With its sufficient budget and staff, the tourism association has communicatively combined qualitative aspects such as environmental and resource protection and healthy nutrition with those of enjoyment. On the one hand, this increased the brand value of the city, and on the other hand, it brought the messages of sustainable nutrition to the people. 
Kathy Belpaeme's approach to achieving these goals is described by herself as "step by step" to implement measures for the food system transformation in Oostende without overburdening the actors, such as local fishermen and restaurants. It is important that the cooperation partners are aware of everyone's priorities and goals and include them so that win-win situations exist. 
Drafting a scenario for Strategic Collaboration
After the inputs from Tina and Kathy, the participants became active. They came up with two ideas for measures for a food system transformation and mapped them in the life cycle of Strategic Collaboration as introduced by Norris-Tirell and Clay (2010: 31). The individual stages in the life cycle make it easier to formulate targeted measures: 
Stage 1: Exploration – The readiness of various possible partners to collaborate is explored. 

Stage 2: Formation – Initial structures and processes are developed 

Stage 3: Growth -. Participants build consensus on goals and begin implementation. 

Stage 4: Maturity – Ideal state of collaboration with participants actively engaged, resources available and results shared. Fruits of cooperation are harvested and further actions are taken.

Stage 5: (Successful) end of cooperation

Stage 5b: Decline – At stage 4, it is determined that the goal of the cooperation cannot be achieved. Either the decision is made to end the cooperation (stage 5) or to renew the cooperation (stage 5c).

Level 5c: Renewal – Reinvention of structure, processes, and outcomes with goal of re-entry into healthy collaboration Key messages of the event 
1) Strategic collaboration is not always worthwhile: It is necessary to check whether the basic conditions are met (see above). Depending on the problem, in some cases a focused approach with specific expertise makes sense.
2) Many issues, such as food production, rural development, health and environment as sub-sectors of food policy, are interconnected. For this reason, cross-sectoral action should be taken. 
3) There is a need for partners from different sectors, with whom one can move forward in small steps towards a food system transformation without overburdening the partners.
Strategic collaboration – not only for established organisations
However, it is also true that anyone can "strategically collaborate" for a food transformation, as long as the principles are fulfilled and the requirements are met. Look around to see who can support you in your concerns and whether win-win situations arise for everyone.  After all, the development of innovative solutions and the initiation of a food system transformation can only be achieved together.
Source: Norris-Tirell, Dorothy and Clay, Joy A. (2010): Strategic Collaboration in Public and Nonprofit Administration. A Practice-Based Approach to Solving Shared Problems. New York: Routledge.