The central kitchen of Ostend lowers food waste by 40%
24 August 2022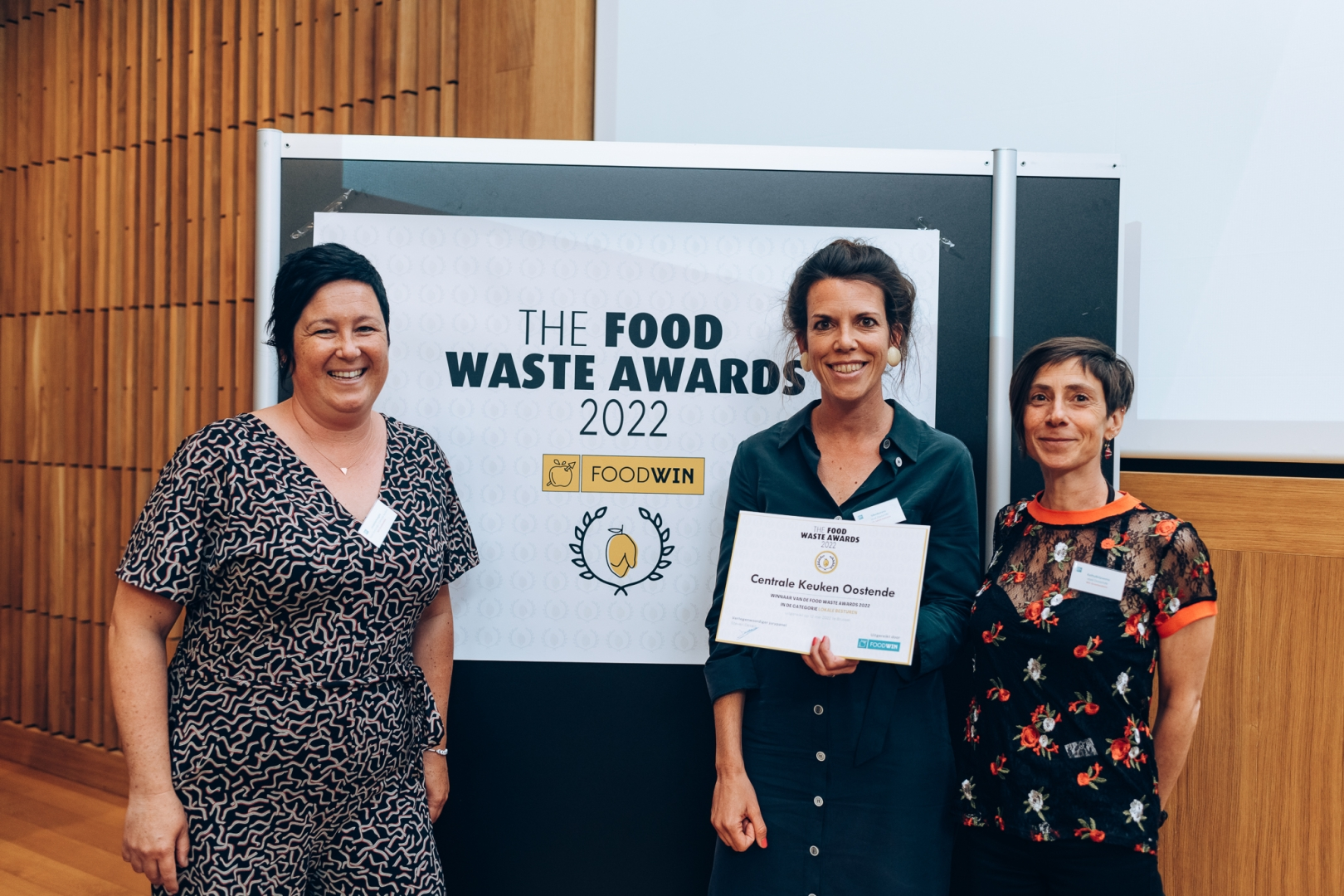 In the picture: Linda Verhaeghe (responsible for the kitchen), Silke Beirens (responsible politician), Kathy Belpaeme (Food Policy Officer)
The central kitchen of Ostend lowers food waste by 40%
Early 2021, the City of Ostend launched a campaign to combat food waste in the city's central kitchen. One year later, it appears that food loss has been reduced by 40%, representing savings of nearly 50,000 euros per year and a reduction of 112 tons of CO2 emissions.
One third of the food produced worldwide is wasted. During the production process, transport, in the store, but also to a large extent in the kitchen and on our plates. The city of Oostende wanted to examine in its own central kitchen where food goes to waste and how this can be avoided. Because wasting food is not only a waste for those who produce and prepare it, it also has a major financial and climate impact.
The measures against food loss fit within the European project Foodshift 2030, which aims for a more sustainable food system.
The trajectory in collaboration with the Province West-Flanders and FoodWIN
The central kitchen produces meals for the staff and for many care institutions (AZ Sint Jan hospital, two residential care centers, five day-care centers and the eight meeting centers). This accounts for about 1,400 lunches, 750 breakfasts and 750 evening meals. The measurement on food loss was carried out under the professional guidance of FoodWIN and received financial support from Province of West Flanders.
A first baseline measurement was done in March 2021. From these measurements it became clear where the losses are and what actions could be taken. Examples are more accurate weighing and fine-tuning of all portions, specifically tailored to the target group (children, elderly, staff, etc); better agreements with all customers regarding absences and meal requests, for example, in day care centers and hospitals; regular consultation with the customers' nutrition managers, for example on the distribution of meal times so that they are not too close together. A targeted purchasing policy and a new stock management system will also help reduce losses.
Saving 50,000 euros
A second measurement took place in February 2022. Thanks to the actions taken, the kitchen managed to reduce food waste by 40% in ten months. This saves no less than about 50,000 euros per year and avoids 112 tons of CO2 emissions.
The greatest progress was made in the day care centers. After the second measurement, more than 50% less food was wasted. The actions taken (such as adjusting the portions, especially for soup and vegetables which were given too large portions) had a clear impact. The biggest progress is seen in a huge reduction of buffet leftovers, on which the actions also focused.
The biggest losses are, also in the second measurement, still in the residential care homes and the hospital. In the residential care homes, the losses are divided approximately equally between buffet leftovers (45%) and plate leftovers (55%). Soup takes the largest share of buffet residues in both measurements. A better distribution of when soup is given, for example in the evening, could lead to smaller losses because then the meals in the first day half would not be so close together. The portions of starch are slightly higher than the recommended amount (167 g instead of 125 to 150 g). Reducing this portion will also reduce the losses.
In the hospital, the actions in pediatrics in particular had a great effect. There the portions were clearly too large. Also a better registration system of the parents who stayed for dinner led to fewer losses. The same applies to clearer agreements on meal requirements for new patients (e.g. staying sober in function of examinations).
First Alderman Björn Anseeuw, responsible for Central Purchasing: "We are very happy with this progress. We have an exemplary function in looking at how as little valuable food is lost as possible. This requires the cooperation of all people in the organization and all links, from kitchen staff to buyers and customers."
"Measuring is knowing. This was immediately made very clear with this trajectory. Reducing food loss is also an important objective in the food strategy of the city of Ostend. In addition to a positive impact on the climate, the net money savings are also a plus, especially now that food prices are increasing everywhere," adds alderman Silke Beirens.
Surpluses will not go to waste
The surpluses that remain are distributed through various channels. Larger quantities are donated to the non-profit food aid organization Lichtbaken. The City is also setting up its own Too Good Too Go system for staff, selling prepared daily specials at a discounted price.
Inspiration moment for mass kitchens
On Thursday 21 April 2022, the City of Ostend organized an inspiration event for professional kitchens in Ostend. With this event the city also wanted to inspire other large kitchens to take action and learn from each other.
And the City itself will continue to look for actions to further reduce the losses and will continue to measure the food. Good communication with all buyers and customers is crucial in this respect.
Food Waste Award Winner
During the Food Waste Fest 2022 organized by Foodwin, the city of Ostend won the Food Waste Award in the category public authorities, for their efforts in reducing Food Waste.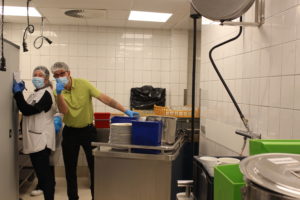 Want to know more?
About the food strategy in Oostende? https://www.oostende.be/oogst
About Foodwin? https://foodwin.org/