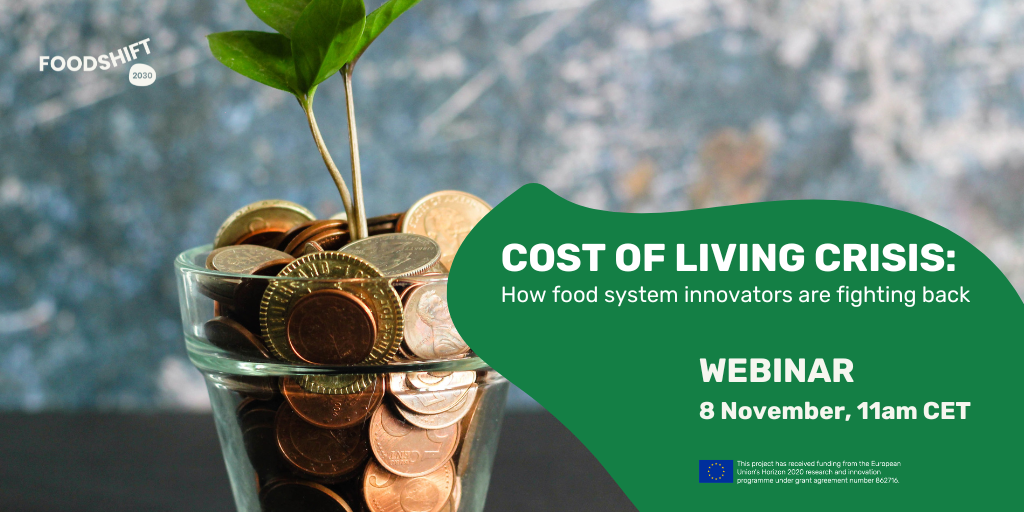 Cost of living crisis: From farm to fork, food system innovators are fighting back
FoodSHIFT 2030 Webinar 8 November, 11am CET (10am GMT) until 12.30 CET
The cost of living crisis and rising energy prices are affecting every link in the food chain; with many food producers and retailers having to close shop, and citizens struggling with their household budgets. Access to healthy, sustainable produced food is seriously at risk as pressure mounts on the slow food movement to give way to intensive farming and cheap, highly processed foods. But rather than give way, radical food system innovators are rising up to the challenge and adapting to the times. This webinar will explore responses to the crisis in three different areas, looking at how businesses, government and citizens can respond. 
In the UK, growers, producers and veg box schemes are working collectively with organisation Better Food Traders, to drive up efficiency, save costs and ensure a steady supply chain, all the while participating in innovative schemes to ensure the most vulnerable still have access to fresh fruit and veg.  
At food partnership Food Plymouth, the council is working closely with local suppliers to ensure continued procurement contracts. As the need for food aid increases in the city, citizens are now being invited to set up bulk buying cooperatives in their neighborhoods to retain their agency amid the crisis.
In Berlin, Germany, a decentral network of food hubs is being developed by neighbours and community spaces, looking to build up collective cooking, food sharing and solidarity with small producers, stepping in where the traditional food structure has not.
Speakers include:
Francesca Volpe – CIHEAM (Mediterranean Agronomic Institute of Bari), FoodSHIFT 2030 Bari Lab, Italy (Chair)
Karen Wohlert  – FoodSHIFT 2030 Berlin Lab, Germany
Julia Kirby-Smith –  Better Food Traders, UK
Sophie Paterson  FoodSHIFT2030 Fellow city, Food Plymouth, UK
Watch the recording here:
Read and download the presentations: