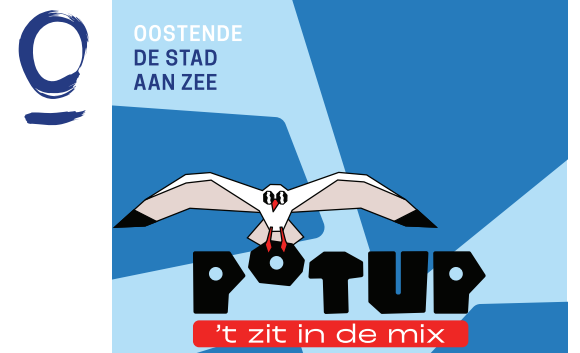 POT UP
POT Up is a project of Antenne/City of Ostend, FOODSHIFT2030 and EIT FOOD. 
Two dialogue tables took place in 2021 during which we engaged in a conversation with some 40 Ostend residents about preparing and storing food. 
How can we reduce waste and repurpose food leftovers? What stories, grandmother's recipes or preparations do they know from the homeland? During these dialogue tables, we quickly discovered the wealth of experiences and knowledge among the participants. We discovered that within the diversity of our city there is an abundance of stories and knowledge around this theme. 
With the POT Up project, we will further explore and capitalize on this knowledge. 
POT Up products
Starting in October 2022, a first trajectory will start in which we will bring people together from common interests to develop their POT Up product. During the first phase of this project, the focus is mainly on inspiration and group work. Then in 2023 we will finalize the products. 
The product will have to fit into a "pot" format. The intention is that the product also brings forward the story of each participant as well as its (local and/or residual) ingredients. The ambition is to launch a new POT Up product in the market each season after a pilot phase and to scale up further depending on the ambition of the participant. 
For this we are looking for twelve inhabitants of Ostend with an appetite and a passion for food. Twelve participants who, through each other and cooking experts, will discover new preservation and preparation techniques through 8 workshops. 
Finally, everyone will get the chance to develop their own POT Up product in duo or alone, which will then be presented to an external jury. 
In this way, we hope to put one or more local products from and by inhabitants of Ostend on the market in the course of 2023. 
POT Up' s that reflect the assets and flavors of our city.
POT Up' s that help us combat waste. 
Practical
Anyone can participate but we have a special focus on customers of Antenne. The workshops will take place at Antenne and will be preceded by a delicious meal. 
Session 1: Info moment 
Thursday 13/10 at 6 pm in Antenne 
Info moment for all interested parties.
Explanation and introduction to project and participants. 
Session 2: Basics 
Thursday 20/10 at 6 p.m. in Antenne 
General introduction on food preservation, with elements such as: 
different storage techniques

 

hygiene

 
sterilization

 

typical 'surplus' products per season.

 

flavors and combinations.

 

allergen information.

 
Session 3: Dips4Chips. 
Thursday, 27/10 at 6 p.m. in Antenne. 
"Dips for chips" challenge of the week. 
Participants will be challenged to create their own dips with fresh chips. We are not aiming for a winner, but a diverse range of dips with homemade chips. 
Session 4: BottleUp
Thursday, 10/11 at 6 p.m. in Antenne 
"Bottle Up" 
Pickling, vinaigrettes & fermenting 
Fermentation workshop: fermenting the season/from vegetable to spread/long live the harvest. 
During this workshop, you will completely master the intricacies of fermentation. You will discover how fermentation is different in every season. By combining vegetables and flavorings, you'll create your own unique ferments. And if that's not enough, you'll get plenty of tips for turning your ferments into delicious dishes. Of course, we'll taste all that goodness too! 
Session 5: Region visit
Thursday 17/11 at 2 pm departure from Antenne 
Inspiration trip in the region to gain insight into local production and residual stream. 
Session 6: POT Up
Thursday 24/11 at 6 pm in Antenne 
Participants will support each other's recipes. 
We will work in two shifts, each time with one half of the participants supporting the other in their POT Up recipes. Afterwards we will taste the different POT Ups, participants will give feedback to each other and think together how the different POT Up products can have a market value in Ostend. 
Session 7: Recipes at the neighbors.
Thursday 1/12 at 4 p.m. appointment at AntenneExchange with a residential care center. 
With the Pot Up team we will visit and have dialogues about preparation and preservation techniques with the residents of a Rest and Care Home. The residents taste the already made products from session 6 and give their advice and counsel to the participants. So during this phase, we organize a kind of mini market in different Rest and Care Homes with our POT Ups to collect first experiences by taste and presentation. 
Session 8: POT Up 
Thursday 8/12 at 6 p.m. in Antenne 
Participants will support each other back in finalizing the POT Up recipes. 
Session 9: Jury 
Thursday 15/12 at 6 p.m. in Antenne 
We will host a trial moment with jury in Antenne. 
During the tasting moment the jury will give a score to the different POT Up product(s). 
This will be done based on the following criteria: 
Local & innovation

 

Taste & shelf life

 

Story & branding

 
In the end we will decide as a group which POT Up trajectories we will set up. 
During, we will encourage cooperation between different participants for further POT Up development so that the full group can continue to participate. 
Together we plan the Pot Up trajectories for 2023 – start after Christmas break 
For more info:
https://www.facebook.com/photo/?fbid=464819635684346&set=a.454013496764960
https://www.oostende.be/pot-up