Madland & FoodSHIFT setting the stage for the food systems of the future
23 February 2023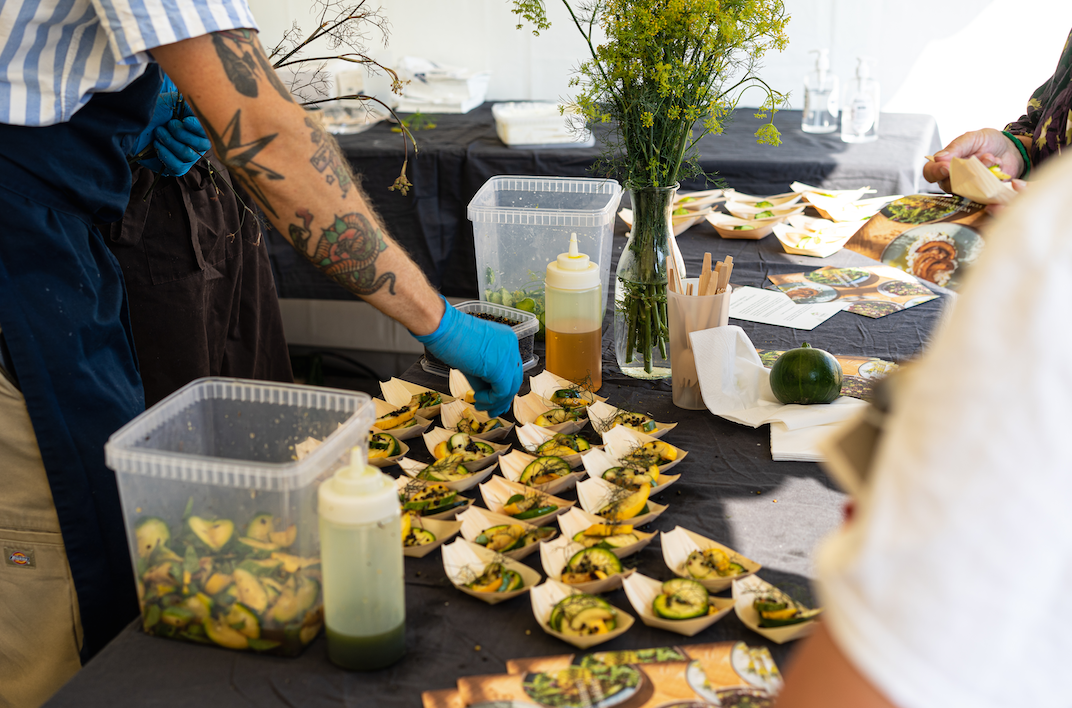 Photo credits: Cécile Desaint
Madland sets the stage for the food systems of the future in partnership with FoodSHIFT 2030 
How does an entrepreneurial company approach wanting something as complex as rethinking the food systems? The answer is good cooperation across national borders and value chains. Therefore, since its foundation in 2020, Madland has worked closely with the pan-European change project FoodSHIFT 2030, which was launched by the EU with the ambition to promote a citizen-driven change of the European food system towards a healthy, fair, climate-friendly and more locally rooted future. Read along and get a status and an insight.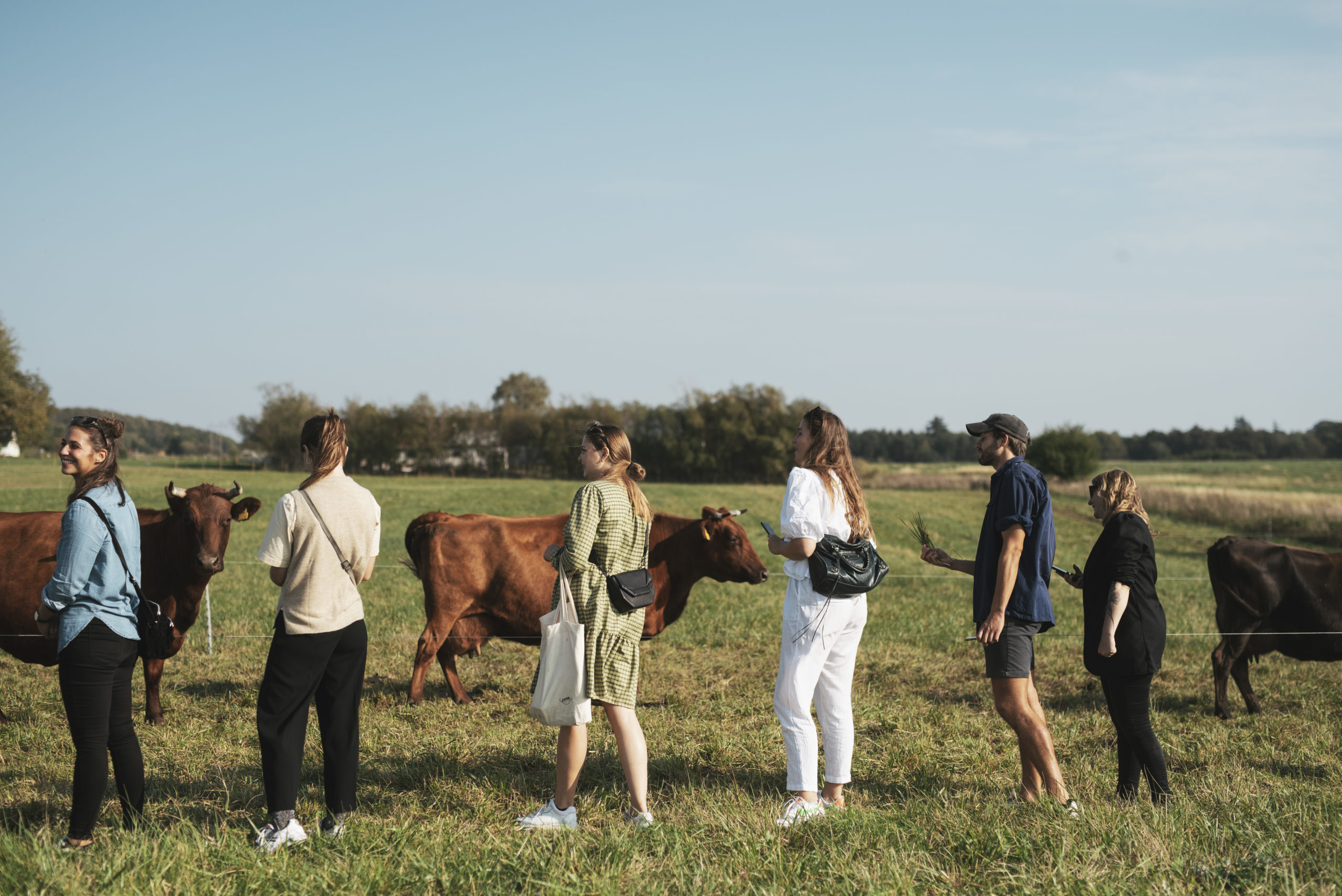 Photo credits to: Besøg på Søtofte
Madland came into the world in August 2020 first as a festival and then to establish itself as a food political gathering point that works to rethink the food systems. On a parallel path, the FoodSHIFT 2030 project launched January 2020 and established an Accelerator Lab in Copenhagen. The project has established nine Accelerator Labs in nine different European cities and their catchments, with the task of supporting the development of food system-changing projects. The geographical location and ambition of the project harmonized completely with Madland's work, which is why the collaboration between Madland and FoodSHIFT 2030 was ideal from the start. Madland is an Innovator under one of FoodSHIFT2030's four pathways to impact: Citizen empowerment, which is about making food systems more transparent, so that all food citizens have the opportunity to make well-informed decisions about the food they eat, as well as clarifying the influence they can have on, how food is produced, redistributed and recirculated. So what have we created together to equip curious food citizens as well as food professionals for a greater commitment to take part in the change?
Transition from conference to digital engagement
The first area of cooperation should have been an international conference in Copenhagen in September 2020. The pandemic and shutdown canceled the meeting, but meant the start-up and testing of digital formats such as podcasts and magazines. The digital magazine Madlandskaber was published in November 2020 with several digital formats that involved and showcased some of those in Copenhagen and the surrounding area who work with food system change. As part of the magazine, FoodSHIFT2030 and Madland also published the first two episodes of the Madland Podcast, Regenerative Agriculture with Sandra Willumsen and Circular Transformation with Karin Beukel.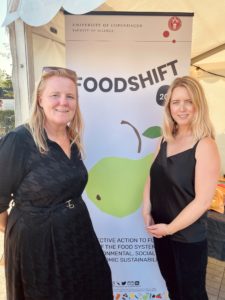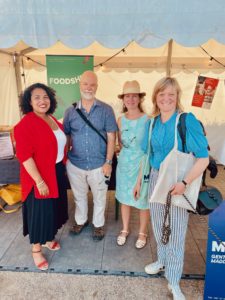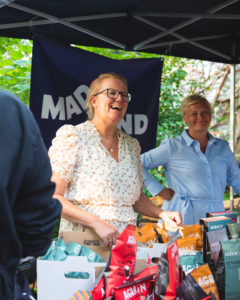 Photo credits (on the right side): Rasmus Poulsgaard
The two formats made it possible to create interest in some relatively complex topics connected with food system change, which would otherwise have been difficult to create interest and engagement around via more concise formats. The newly created interest was an indication that these were formats that both FoodSHIFT2030 and Madland could continue to work with in the coming years' activities. Therefore, we also decided to publish another edition of Madlandskaber in 2021 and another episode of Madland Podcast, conversion to local ingredients in restaurants and canteens with Line Rise Nielsen. 
Gathering point for meetings, media and knowledge FoodSHIFT 2030's experts and innovators have naturally taken part in Madland's meetings. First for the opening of Madland and Madland Festival and at the other openings of Madland Festival 2021 and 2022, where i.a. FoodSHIFT 2030's Lab Leader in Copenhagen, Line Rise Nielsen, through speeches and hosting, has given food citizens an insight into how to work across Europe with the most important food agendas on the menu. Right from the start of Madland Koalitioner in June 2022, FoodSHIFT 2030 has acted as a significant contributor by supporting the program, while several of FoodSHIFT 2030's Innovators have become part of Madland Koalitioner. 
This applies to Coop Crowdfunding, Changing Food, CPH Food Space, Foodprint Nordic, Kitchen Collective and Pantrii. Madland has also taken the pan-European insight into the Madland Guide, where both the Madland Newsletter and SoMe channels have highlighted FoodSHIFT 2030's webinars and events. Madland has also made it possible for FoodSHIFT2030 to become visible in the press and media, both in the form of press efforts in connection with festivals and public meetings, and mention of the opening of FoodSHIFT2030 and a debate article published in POV International. 
Curious about more? Read Madlandskaper here and listen to the Madland Podcast. Like the three previous years, FoodSHIFT 2030 will be a significant part of the Madland Festival in 2023. It will take place 20-23 April. Follow FoodSHIFT 2030 and Madland's channels for more info!
Discover the Madland Festival for 2023 HERE!