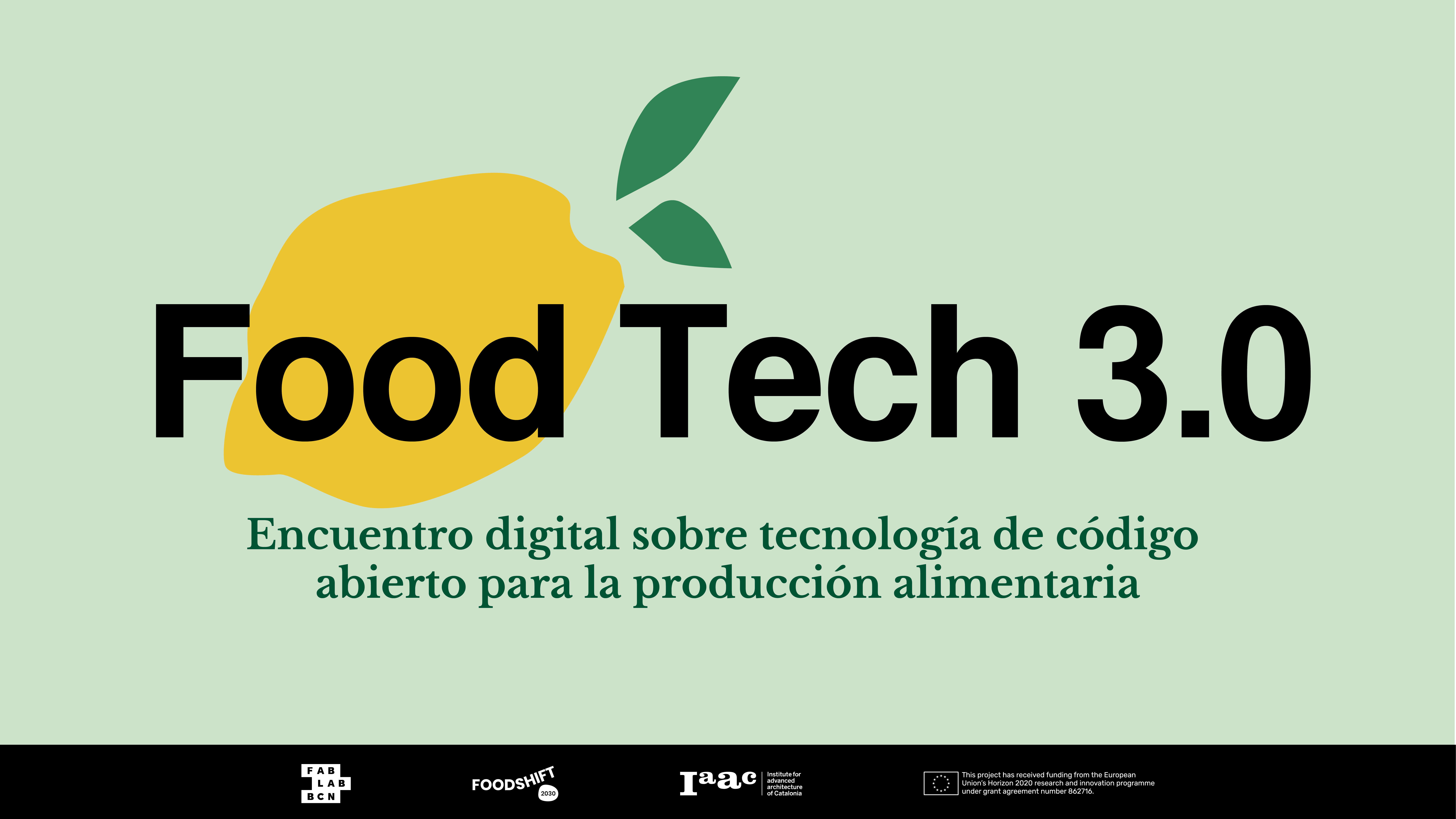 Fab Lab Barcelona is launching the next phase of Food Tech 3.0: an open call for innovative food technology initiatives to participate in an acceleration programme. 
Local professionals and innovators in the food and agricultural technology sector can present their proposals until 15th of January 2021 at 00h.  
Food Tech 3.0 is one of the nine FoodSHIFT 2030 Accelerator Labs (FALs) with a goal to  develop and implement open source food technology, and related processes, that facilitate the management, monitoring, socialisation and efficiency of urban food production, processing, consumption and recycling. 
10 of the best initiatives received during the call period will be chosen to participate in an acceleration programme from February to November 2021, coinciding with Barcelona's title of World Capital of Sustainable Food in 2021. During the programme, participants will collaborate with experts and citizens linked to the food technology sector in Barcelona, within the FoodSHIFT 2030 network and, later, with the Fab Lab Network and Fab City Global Initiative networks, effectively becoming ambassadors of Food Tech 3.0 on a local and global level.
Each of the selected innovators will be paired with a local "maker", who specialize in topics ranging from electronics to planning for emerging futures. Together, they will work to improve the technological and social readiness levels of the initiatives using Fab Lab Barcelona's tools and approaches; they will connect their initiatives with existing community challenges; and they will develop their capacity to train others in the use and hacking of their initiatives to establish food citizenship.
The rest of the mentoring team will be made up of professionals in the sector, experts from the Fab Lab Barcelona and Nextfood teams (the FAL assistant) and members of the FoodSHIFT 2030 network. 
Through Food Tech 3.0's acceleration programme and unique approach to developing and implementing food technology, Fab Lab Barcelona aims to drive forward the transformation of the current food system – a privatized system that too often leaves behind an impressive social and environmental footprint in search for economic gains – to a system that prioritises community and food citizenship; holistic sustainability that provides positive environmental, social and economic impacts; open design; and practices promoting intersectional equity and accessibility.
Selected initiatives will be published at the end of January 2021, after an evaluation process carried out by a panel of internal experts from Fab Lab Barcelona.
Official Food Tech 3.0 kick-off event
Details about the acceleration programme will be presented at Food Tech 3.0's first public, online event on 9 December 2020.
The online event event will also address how Food Tech 3.0 allows Fab Lab Barcelona to take another step into the food sector and establish a "food hub" to bring citizens closer to food production through digital manufacturing and empowerment at its headquarters in 22@ in Poblenou.
The event will feature the participation of Nextfood, La Fabric@, Restaurante LEKA, AbonoKM0, Huertos in the Sky, FoodE, and Co-Responsable, initiatives which, together with the World Capital of Sustainable Food and Food Policy of Barcelona, are collaborating as advisors to Food Tech 3.0.
More information:
On the initiative acceleration programme, click here
About the online event on December 9, 2020, click here 

For any other questions, please contact Sally Bourdon – Food Tech 3.0 Manager at

[email protected]
Please note the event, the application and the acceleration programme are all in Spanish.
Download the Press Release in Spanish: Click here.