Multi-level governance workshop in Ostend
06 November 2023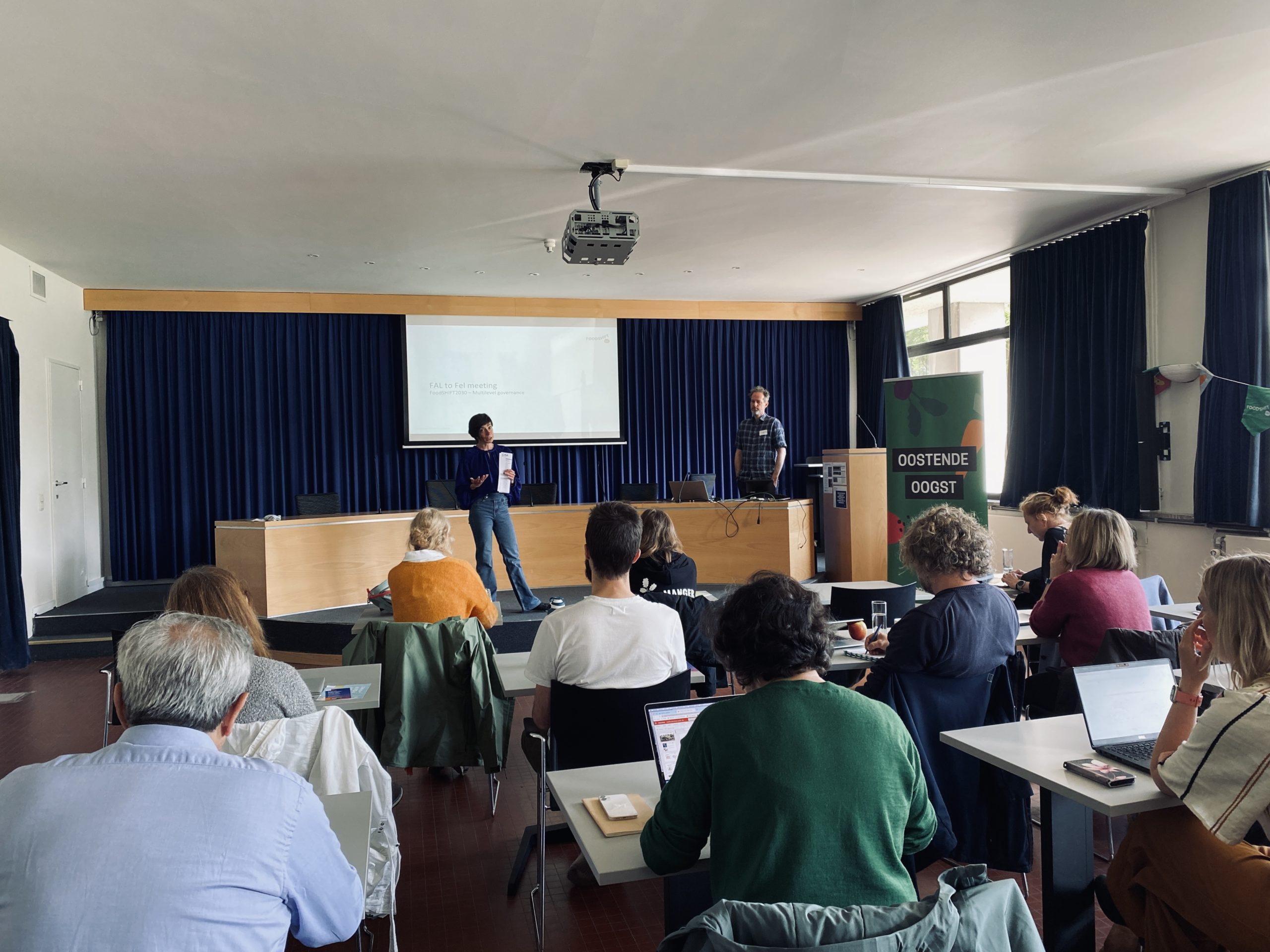 Introduction 
Food governance is emerging as an ever more prominent and cross-cutting form of policy in which the various aspects of food systems are integrated via social, economic, health and environmental dimensions. This entails the potential role of a large eco-system of stakeholders active within a specific region, such as farmers, food entrepreneurs, citizens, policy makers and people working for organisations that are open towards integrating food system innovations within their workings such as schools, care institutions, community workers and nature organisations. At the same time we see that the transition towards food-thinking takes place at various policy levels. Whereas initially food policies were mainly deployed at the municipal level, recently food policies have also been deployed at provincial (e.g. East Flanders), regional (both Wallonia, Brussels and Flanders) and European (Farm to Fork) levels. This constitutes a breakthrough because the food-system does not stop at the local level and many cross-cutting issues such as land policy and spatial planning, regional development, short-supply chain, food poverty and the rural-urban divide cannot be solved at the local level alone. At this moment, cooperation between these different policy levels is still at its beginning and the time is right to advance much-needed synergies.    
In this workshop organized in the context of the FOODSHIFT2030 project, the Ostend Lab, composed by City of Ostend and ILVO, aimed to address and move forward with regard to these intertwining issues of multi-level food governance and stakeholder participation. The main goals of the workshop were to (1) share ongoing actions and instruments with a group of people active in organizing food governance (2) find opportunities to work together in the future and (3) provide feedback to EU policy.  
Harvesting insights for multi-level governance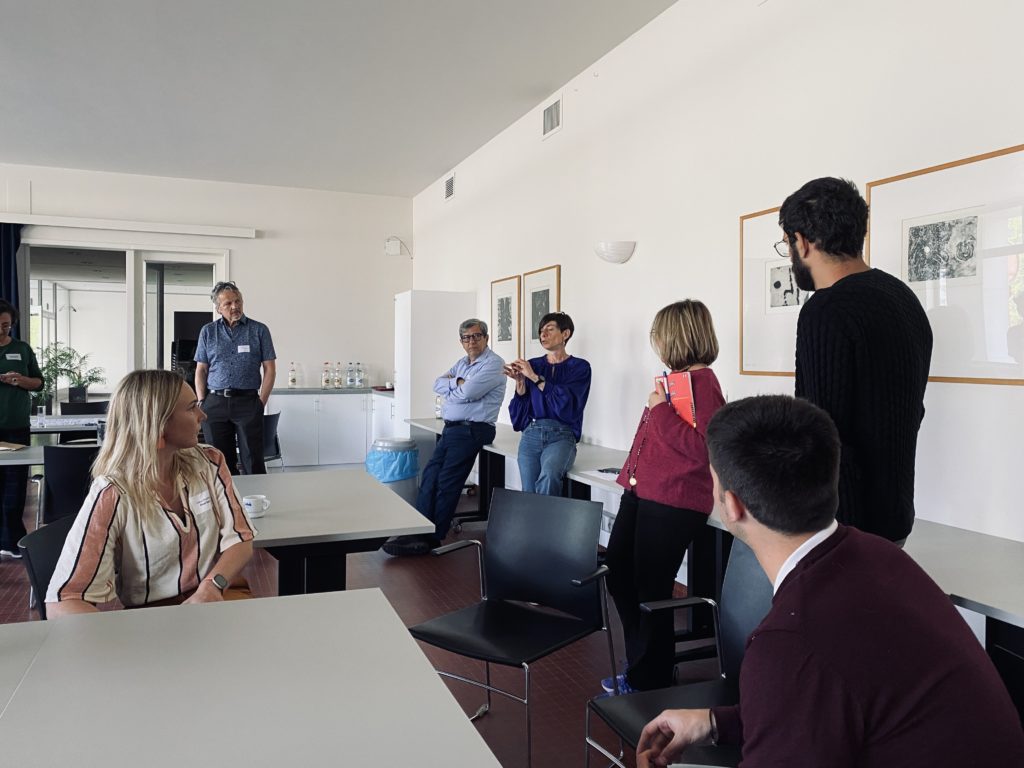 Via various sessions we explored existing policy mechanisms participants considered to be key defining characteristics for their food governance trajectories. Sharing these mechanisms provides  clear benefits to the participants. First of all, we were able to get an overview of existing programs, rationales, subsidies and support activities related to food governance, learning from each other about what works and is needed. Second, it was possible to identify points of connection between the different government levels.   
We give an overview of some of the policy mechanisms explored and discussed, referring to a wealth of existing approaches. The policy mechanism are clustered according to different themes (a selection was made).   
We end with a series of insights on multi-level collaboration and recommendations towards future support that have been proposed by the participants.  
An overview of key policy mechanisms  
Strategic plans and institutional anchorage  
Food governance is not entirely new, but a lot of governments are not yet aware of its relevance and potential. To this end it can be useful to establish and disseminate 'A Food Manifesto', making different policy levels aware of the way in which a food strategy can be implemented. Convincing local authorities is a challenge and taking a multi-level approach is often necessary. Within Metropolitan region Bari, such a manifest was put in to place. 
A similar mechanism was put into place by the VVSG, the Flemish Network of cities and Municipalities. They have put into place a 'declaration of commitment', in which municipalities have engaged to work across policy areas, involve local actors, change procurement conditions , support bottom-up initiatives, establish food projects, etc.
A politically approved food strategy can be the starting point of a longer journey. When a set of strategic and operational goals, linked to an action plan, can be approved by the council of a local authority, this in a lot of cases provided a legitimate framework from which a whole series of actions can start. The cities Ghent, Oostende and Brussels have been able to realize this but also recently the Flanders and Walloon regions have established an overarching framework that provides a base for cooperation, policy decisions and project related actions.  
Another crucial mechanism is to have a food policy officer in place; a person dedicated to coordinating the actions within the food strategy, by mobilizing and connecting local actors, connecting different policy domains beyond sectoral thinking and find new opportunities. One could even speak of a food director. Although we find  bridging figures on the local level (i.e. like Kathy Belpaeme in Ostend) this role is largely lacking when it comes to fostering cooperation between various policy/administrative/geographic levels.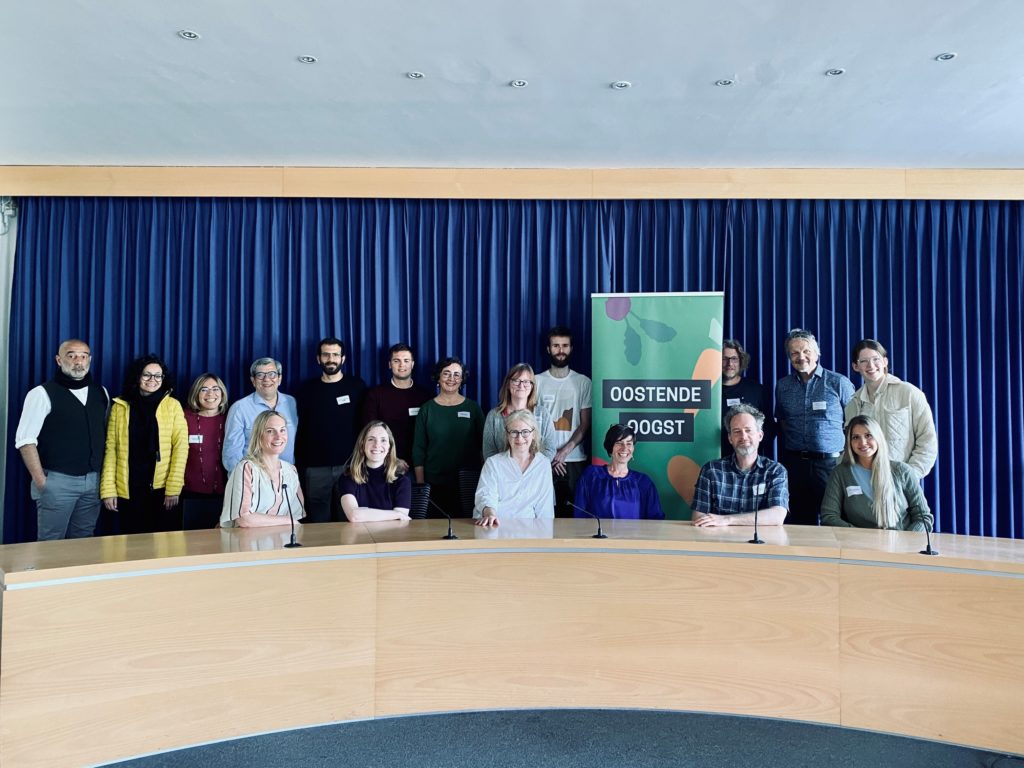 Establishing a multi-stakeholder platform beyond the borders of the city can be important. An example of this is the Food Link network in Lisbon. Led by the Institute of Social Sciences of the University of Lisbon (ICS-ULisboa) a range of actors on the national, regional and local level were brought together and via the H2020 ROBUST project rural-urban synergies were brought to the attention.
Although academia took the initiative, the emerging vision resonated well with the local authorities and a food plan has been taken up.   
Linking across policy levels and geographic boundaries 
Unfortunately, food governance is not yet an established policy domain within most of the local governments, and often falls in between existing policy boundaries. Therefore, it is important to get existing policies and programs in line with each other to get a solid view on how to steer the food system in more sustainable ways. Innovative is the approach to write out an agricultural vision for a specific municipality or region, setting out the lines of support for local farmers and providing access to land, resources and social capital for those farmers that produce food in the vicinity of the urban and peri-urban areas. Ghent and Aalst are two cities that have recently established agricultural visions. You can learn more about it here. 
Another approach is to make the official food strategy part of the climate strategy within a city, such is the case in the city of Bruges where the food related goals are embedded within the climate strategy of the city. 
Multi-level governance shows its benefits when higher governments set out a facilitative framework for subsidiary policy bodies. This is the case in the province of East Flanders, where a subsidy has been called to life that provides organizational support to set up a food plan on the level of local cities and municipalities. East Flanders has developed its own food strategy and one of the goals is to become a mediator in the establishment of food governance at the level of the local.  
In terms of local food governance, the Local Action groups of the Leader program provide an important impetus to align different geographical levels. Although Leader is specifically focused on rural areas, it is important to take into account the relationship between rural and urban contexts. This could mean that new policy measures need to be put into place that make a link between agriculture and citizens that goes beyond the rural-urban divide.
Local food governance provides substantive support 
We give here a non-exhaustive overview of some of the more refined policy mechanisms discussed.  
Supporting vulnerable groups  
Governments can  become important mediators to support local shops in contributing to what can be called Food justice: the right of everyone to be able to buy local and organic produce. This is the case in the Walloon policy program  'local in my shop', where local shops are facilitated to include local products and short supply chain in their operations. Three mechanisms are in place.  A solidarity fund for access to organic and local food, where each customers' euro given to the fund is doubled by the government. Vouchers (8 month) which permit customers to buy organic and local produce with a reduction. Marketing advice with the goal to attract more customers to the shop. 
More info: https://www.mangerdemain.be/mecas-soutien/  
A very innovative and integrative approach is taken in the Good Food strategy of Brussels. Being fully aware of how food poverty plays out at various levels of contemporary life they have initiated a link between access to healthy food and access to social housing, working on 3 pilot projects. The idea is to explore to what extent people in social housing context can be supported in setting up local food producing systems.  
Supporting local canteens  
Several of the participating food governance initiatives are advocating for changes in public procurement, making a plea for 'Food exception', an approach that aims to facilitate collaboration between local canteens and farmers, setting a change of procurement criteria in favor of boosting local food economies and culture. The Walloon region has a subsidy for public canteens that allows them to get back 50% of the amount spent on local food products.  
More information: https://www.mangerdemain.be/coup-de-pouce-local-assiette/   
Support the access to land  
Food governance can be established by utilising public lands as a means to realize the goals of a local food strategy. For instance, the city of Ghent has launched several calls in which public land can be used by local farming communities. The use of public land is attached to a set of criteria such as nature-inclusive farming, setting up a short supply chain or safeguarding the societal impact of agricultural practices.
More information on the Oproep in Mendonck. 
Supporting a shift in awareness  
Creating awareness in the food system can be fostered in various ways. O is the Foodwinners project in Bruges, where a minimum of 500 citizens is engaged in a concrete trajectory in order to monitor and finally change the way in which they interact with food waste.  
Insights on multi-level collaboration  
In the discussions between the representatives of the different participating policy levels it became clear that multi-level collaboration is crucial to the success of food governance. 
Several specific issues were particularly seen as in need for the multi-level approach:  
addressing farmers outside the boundaries of the municipality

 

organizing logistics to access new local markets

 

 making a connection between urban and rural food poverty

 

cooperation on land governance and spatial planning legislation

 

pooling of resources to increase impact or establishing complementary subsidy channels 

 
It was clear that without cooperation and coordination across policy boundaries and levels these issues remain insufficiently attended. 
This workshop served as a first as a first step in what could be a longer series of events that aim to foster new alliances between different policy levels. ILVO will see to what extent they can prolong this.  
Feedback to EU policy  
Some recommendations were formulated:  
Provide subsidies on EU level that specifically focus on bringing together different policy levels within one specific region. The most EU programs foster inter-state cooperation but also within member states useful links ought to be made. This could be a new approach embedded within the Farm to Fork strategy. 

 

Establishing bridge figures which are able to connect different levels beyond the direct policy level that they serve. This could be initiated by national/regional food strategies (Multi-level food director). 

 

Publish documents with an overview of all the ongoing policy measures and contact persons as a way to have an overview of complementarities across policy levels.

 

Integrate food governance in interregional learning platforms such as Interreg. 

 
For more information on this topic you can contact: [email protected]