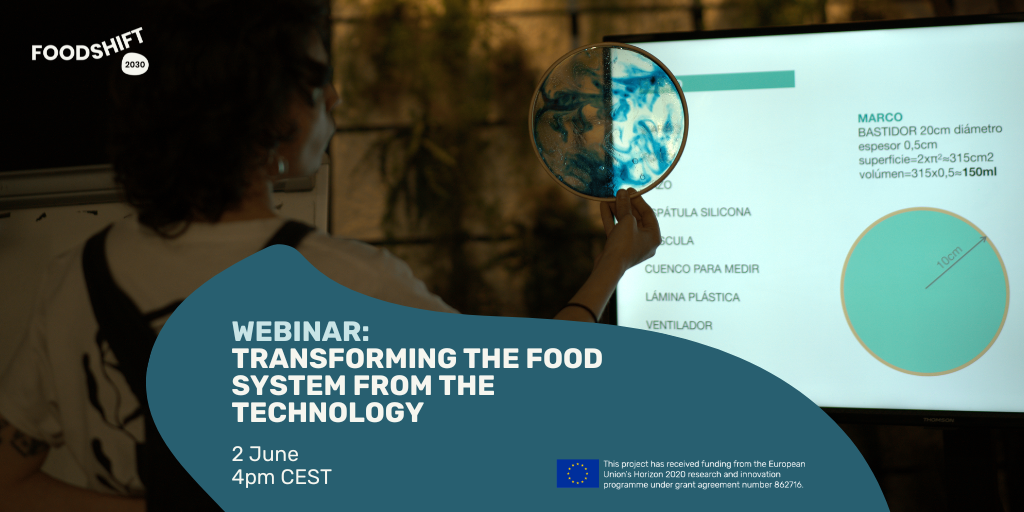 Webinar: Multiplying impact – Transforming the Food System from Technology
June 2, 4pm-5.15pm CEST
The world's food system is facing unprecedented challenges from growing demand for food from a booming population, increasing hunger and malnutrition, the adverse effects of climate change, overexploitation of natural resources, depletion of biodiversity, and food loss and waste. These challenges can undermine the world's ability to meet its present and future food needs.
In the context of the FoodShift 2030 project, a project that seeks to put citizens at the center of food systems change, we are pleased to invite you to participate in the webinar called "Foodshift 2030: Multiplying Impact – Transforming the Food System from Technology", in which 4 organizations from different European Union countries will share experiences and best practices on how to transform the food system for citizens, this June 2, 2023 from 16:00 h. 
This will be the second webinar of 3 sessions where we will talk about 3 different topics to motivate citizens to transform the food system from the Community, Technology and Business Models, pillars on which our Food tech 3.0 acceleration program was based, where 10 initiatives were trained in each of these 3 topics.
FOODTECH 3.0 from a makerspace perspective
Food technology has experienced significant advances in recent years, and makerspaces have also played an important role in innovation and the creation of technological solutions in different areas. A makerspace is a physical space where people can come together to share resources, knowledge and tools to carry out projects and develop creative ideas.
In the context of food technology, a makerspace can be a place where food enthusiasts, scientists, engineers and entrepreneurs come together to explore new ways to improve food production, food safety, food preservation and other related areas.
In this Webinar we will mention some areas where a makerspace can play a role in food technology, such as: 
New product development

: Makerspaces provide an environment conducive to experimentation and the creation of new food products. Makerspace members can work together to develop innovative foods, from vegetarian and vegan alternatives to healthy snacks and functional foods. They can use equipment such as 3D food printers, extrusion machines and controlled fermentation to create prototypes and test new recipes.

Urban farming and smart gardening

: Makerspaces can be places where urban agriculture and smart gardening systems are designed and built. This involves the use of sensors, automation and vertical farming techniques to optimize the use of space and maximize food production in urban environments. Makerspace members can collaborate on building hydroponic systems, aquaponics systems, and LED lighting systems to grow fresh food indoors.

Food waste reuse

: Makerspaces can provide resources and expertise to help people reuse food that would otherwise go to waste. For example, they can offer workshops on how to preserve food, how to compost, or how to prepare creative dishes with leftover food.

Food preservation technology

: Makerspaces can be used to develop more efficient and accessible food preservation technologies. This includes designing and building food dehydrators, smokers, vacuum packers and other equipment to safely extend the shelf life of food. Traditional preservation techniques and controlled fermentation methods can also be explored.

Sensors and food monitoring

: Makerspaces can contribute to the development of food quality monitoring and sensing systems. Members can work on creating low-cost sensors to measure parameters such as food freshness, temperature and moisture. These sensors can help detect the presence of harmful bacteria or determine the quality of food products, which is especially important for ensuring food safety.

Education and outreach:

Makerspaces can also play an important role in food technology education and outreach. They can organize workshops, talks and events to share knowledge and encourage community involvement in improving food production and processing. This can include hands-on activities for children and adults, where they can learn about food science and experiment with healthy food preparation techniques.
In this session we will be joined by the following innovators to demonstrate the above alternatives:
BARCELONA 
Veronica Arcas and Pietro Tonini, representing TECTUM a Catalan company created in 2020 that was born with the aim of moving towards a more sustainable and local food production model. Born from the Sostenipra research group of the Institute of Environmental Science and Technology (ICTA-UAB) of the Autonomous University of Barcelona, they are specialists in urban agriculture and have very diverse backgrounds to provide interdisciplinary responses to the challenges of moving towards more sustainable cities.
Silvana Catazine and Josean Vilar founders of Naifactory Lab, a transdisciplinary creative studio, specialized in eco-design strategies and sustainable solutions to promote circular economy among creative industries. Naifactory offers its know-how in research and innovation of biomaterials elaborated in its laboratory taking advantage of local resources and collaborating with social labor.
PARIS
David Colliaux representing Sony CSL, (Sony Computer Science Laboratories) is a cutting-edge organization working to create new areas and paradigms of research, as well as new technologies and business for the common social good. The lab uses the tools of complexity science, data science and artificial intelligence to investigate fundamental questions in different areas such as understanding and creating music, language and communication systems, sustainability, and the dynamics of innovation and creativity.
HAMBURG
Gaia Di Martino representing the New Production Institute, which emerged from the interdisciplinary research group "Value Creation" of the Laboratory for Production Engineering (LaFT) at Helmut-Schmidt-University Hamburg. As a think tank for the future of value creation and value production, the experts of the New Production Institute are involved in various projects that address the transformation of value creation systems in the context of new possibilities for networking and production in times of digital transformation. In particular, the focus is on the implementation of openness in new modes of value creation (open innovation, open design, open production and open source).
And Sally Bourdon representing Fab Lab Barcelona as moderator of the session, which will start with a short presentation of each participating entity, followed by a small debate and a Q&A session from the audience.